$5 Liberty Jewelry Grade (Dates/Types Vary)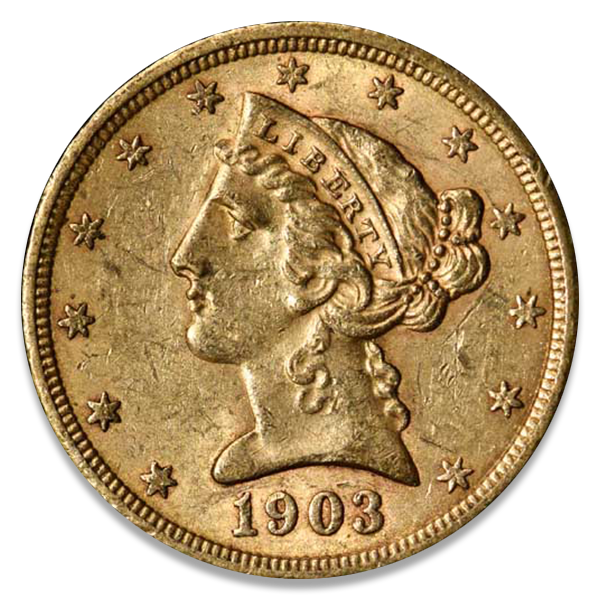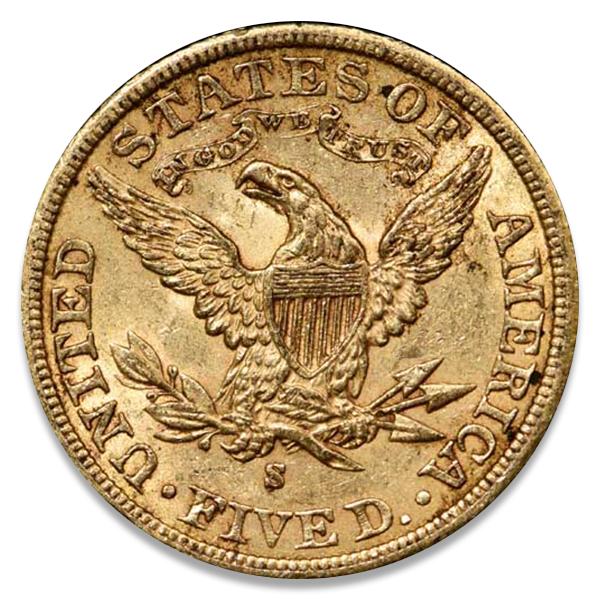 The reverse of this Type has a scroll above the eagle with the motto IN GOD WE TRUST in relief. Except for the scroll it is identical to the No Motto Type.
The addition of the motto to our coinage came at the urging of Reverend Mark R. Watkinson of Ridleyville, Pennsylvania. The uncertainties and horrors of the Civil War engendered strong religious feelings among the citizenry, and Rev. Watkinson felt this should be acknowledged. Secretary of the Treasury Salmon P. Chase agreed, and using his discretion as to the inscriptions on our coins, Chase had the motto first added to the 2-cent piece in 1864. Originally the motto was intended to be expressed as "In God Our Trust", but Chase's collegiate alma mater may have influenced the final version. Secretary Chase was a graduate of Brown University, whose motto IN DEO SPERAMUS translates to "IN GOD WE HOPE". It is believed that Chase had this in mind when he made the final decision as to the exact wording of the motto. The Coin Act of March 3, 1865 gave the Treasury discretionary power to place the motto "on all coins able to accommodate it", meaning coins large enough to have room for it. The Mint took this to mean all silver coins larger than a dime, half eagles, eagles and double eagles. It was not until 1908 that Congress mandated the motto be placed on gold and silver coins. In 1955 Congress passed legislation that required the motto be placed on all coins.
With the exception of 1873, all With Motto Half Eagles dated before 1878 have low mintages, and are rare and expensive. The reason for this is to be found in the Civil War. During the Civil War, gold coins were hoarded and all banks suspended specie payments. Hoarding led to many products having a two-tiered pricing structure: Those paying with paper currency paid more than those paying in gold. The gold coins minted were primarily used for international trade, bank reserves and certain contracts requiring payment only in gold. 1873 is an exception, because the Treasury deposited large numbers of old, worn, obsolete gold coins for re-coinage. In 1878 banks resumed specie payments. Shortly thereafter, mintages increased dramatically and immense numbers of half eagles entered the economy.
This coin is collected as a Type, and in a myriad of sets. In addition to date, or date and mintmark, sets, one of the more popular sets is one coin from each of the seven Mints that produced half eagles. Half eagles are the only coin made at all seven U.S. Mints.