1/2 oz Silver Round (Types Vary)
Credit / PayPal / Venmo
$15.13


High Demand Product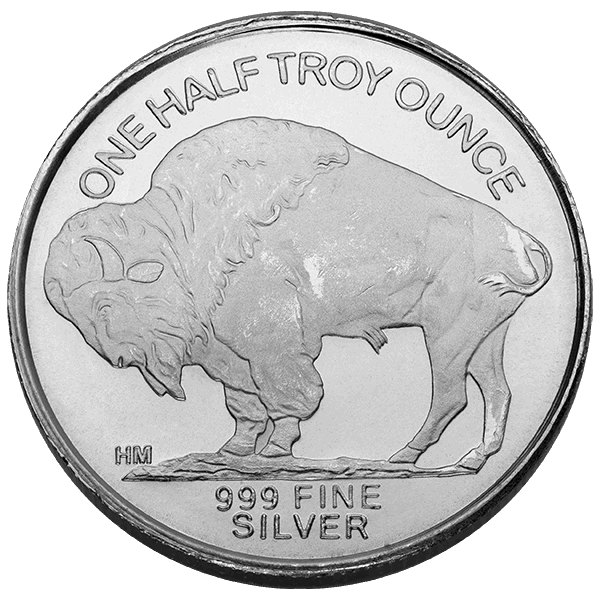 Introduction
The 1/2 oz Silver Round, available in a captivating array of designs and themes, stands as a versatile and accessible option for both silver investors and collectors alike. These half-ounce silver rounds have gained popularity for their convenient size and affordability, offering an ideal balance between silver value and flexibility. With a diverse range of designs, from classic and patriotic to pop culture and commemorative themes, these rounds provide an engaging and customizable means to invest in silver while enjoying the artistic expression they offer.
History
The history of 1/2 oz Silver Rounds is rooted in the broader evolution of the silver bullion market. These versatile and accessible rounds gained popularity in response to the growing demand for more affordable and easily tradable forms of silver. Their history can be traced back to the late 20th century when private mints and refineries began producing silver bullion in various denominations, including the half-ounce round.
Design
The design of 1/2 oz Silver Rounds is a testament to the creative diversity of private mints and refineries that produce them. These rounds come in an extensive array of motifs and themes, catering to the varied tastes of both investors and collectors. Some feature timeless and patriotic designs, showcasing national symbols, historical figures, or iconic imagery that pays homage to a country's heritage. Others embrace contemporary pop culture, featuring themes inspired by movies, characters, or iconic symbols that resonate with a wide audience. Additionally, many 1/2 oz Silver Rounds commemorate significant events, historical milestones, or cultural celebrations, offering collectors the opportunity to acquire pieces that capture specific moments in time. This wide variety of designs makes 1/2 oz Silver Rounds a dynamic and engaging choice for those looking to invest in silver while enjoying the visual richness and diversity of their collections.