Market News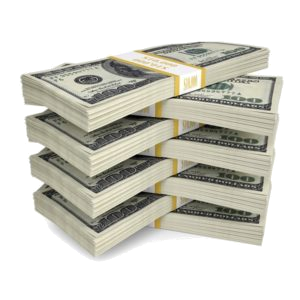 Investment | May 5, 2021
The U.S. dollar is under fire from multiple fronts – and that increases the importance of investing in tangible assets like gold bullion more than ever before. The U.S. dollar is being devalued at home – by our own government that is printing new money and expanding the money supply at a historic pace. And,…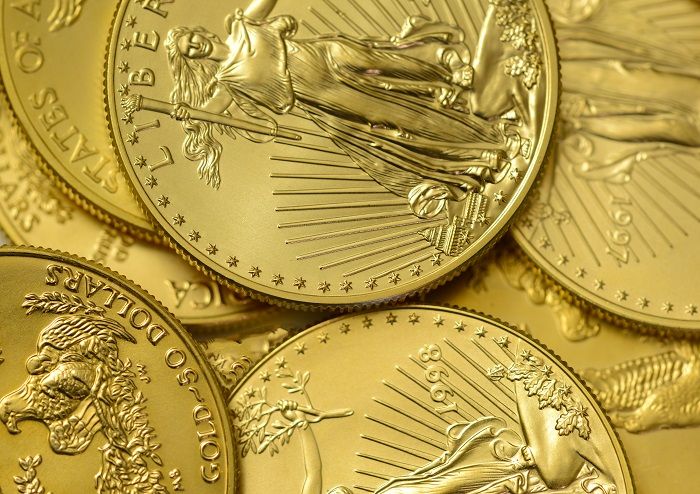 Gold | April 22, 2021
Gold climbed to a seven-week high this week – boosted by weakness in the stock market, signs that inflation is emerging in the U.S. and amid strong demand from India and China for physical bullion. The short-term trend turned positive for gold last week as the yellow metal climbed above its 50-day moving average –…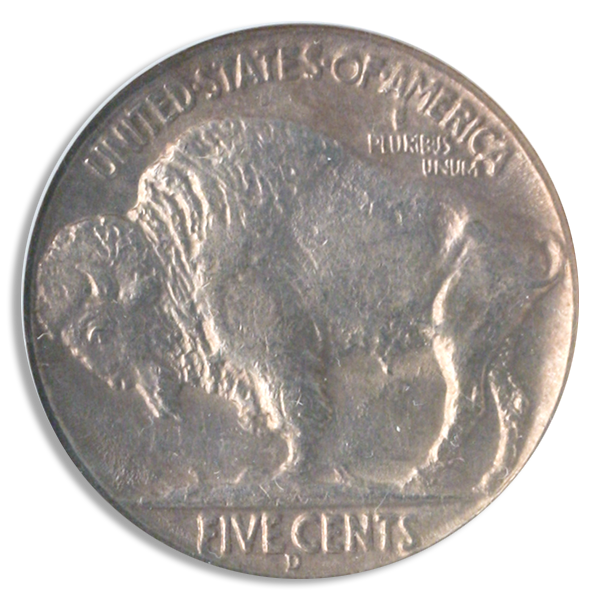 Market News | April 19, 2021
In early 1902, President Theodore Roosevelt made it a priority to update and improve the look of U.S. coinage. However, there were constraints that prevented even the president from getting what he wanted. An earlier 1890 act of Congress made it a requirement that all U.S coins remain in circulation for a minimum of 25…
Market News | April 14, 2021
Since the days of the ancient Greeks and the Romans, commemorative coins have been popular as they honored important historical events. The 1925 Stone Mountain Silver Half Dollar is a prime example. America's largest Confederate Memorial is carved 42 feet deep and 400 feet above the ground on the side of a huge granite mountain…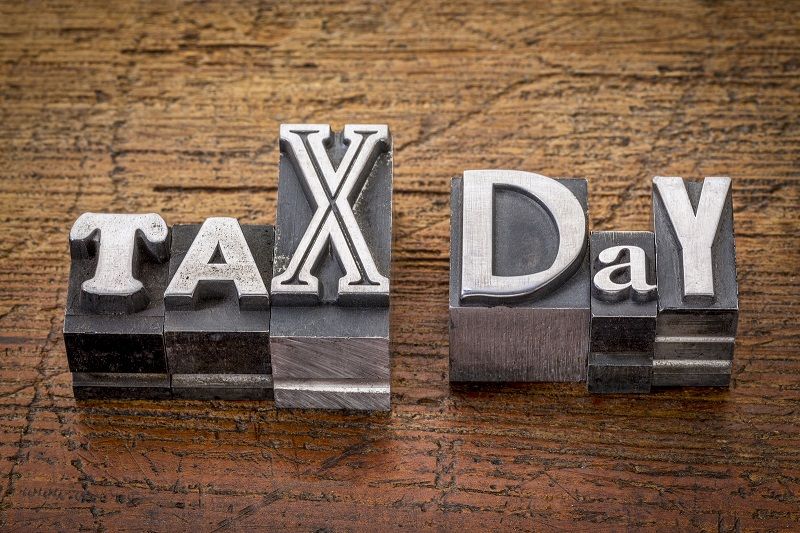 Investment | April 7, 2021
For two years running now, the IRS gifted taxpayers with extra time to file their income tax returns. You now have until May 17, 2021 to compile your financial documents, complete your tax return and make contributions to 2020 IRA accounts. This extra time offers you a valuable opportunity to review your portfolio and diversification…
By Mark Ferguson
Mark Ferguson is the editor and publisher of CAC Market Values. He has graded coins professionally for PCGS and served as the principal market analyst while managing updates for more than 65,000 price points for Coin World magazine. In other words, Mark knows his coins!
Demand for investment-grade rare coins has surged since the coronavirus pandemic and economic crisis began six months ago; and this demand has been strong for CAC coins. This month's market report gives you a behind-the-scenes look at what the country's oldest and largest precious metals and rare coin retailer is seeing in client activity: Blanchard and Company. It's an eye-opening look at where demand is coming from, which will likely continue for the next several years. This new demand bodes very well if you own high-grade, rare CAC coins.
For more than an hour in late June, I discussed the rare coin market and CAC coins with David Zanca of Blanchard and Company. David is a senior portfolio manager at the firm and has been with Blanchard since 1993. Among other collections he's helped build, over a span of 25 years Zanca built one single portfolio of ultra-rare coins totaling nearly $20 million, a portion of which recently came to auction.
From the launch of CAC in 2007, Blanchard and Company has partnered with CAC founder John Albanese and Certified Acceptance Corporation in establishing a market for CAC coins. Albanese and CAC are the primary suppliers of rare coins for the Blanchard firm. Certified Acceptance Corporation makes a market in CAC-approved coins by publishing buy prices for CAC coins in the dealer-to-dealer market.
Blanchard and Company was founded in 1975 by the late James U. Blanchard who began a nationwide movement in 1971 to legalize gold ownership, after it had been outlawed by the Franklin D. Roosevelt administration in 1933. Blanchard also founded the National Committee to Legalize Gold in 1971. Success was achieved in 1974 when President Ford legalized the private ownership of gold. The firm's focus has been on the investment aspect of rare coins, but in doing so, has built advanced collections such as the one referred to above.
Motives for Private Investors Who Seek Rare Coins
Recent volatility in the stock market has caused many investors to seek alternative investments. Many of these people are of the age at which they don't want to take on a lot of risk. According to David Zanca, the biggest concern of investors is the "printing" of money by the Federal Reserve and the stimulus that has been pumped into the U.S. economy, which may increase. The concern is rising inflation and the loss of purchasing power of the dollar. Low interest rates, with the possibility they could become negative rates, is another concern of investors. They view gold as an alternate currency that's a safe haven investment and they seek to own tangible assets they can control. Similarly, rare coins serve this purpose.
Investors who are not collectors get introduced to rare coins through buying precious metals from a firm like Blanchard that handles both. Other investors are referred by friends or family who have purchased coins. After buying a few coins, some take an interest in the history of the coins and become collectors. According to Zanca, what's changed in the last six months is that many of these new collectors are putting investment money into their collections, rather than just excess "play money" they have sitting around. He said every portfolio manager at Blanchard is seeing this. He added that the market is moving from a long-term collector mindset to an investor mindset. We saw this same change during the inflationary 1970s. Then, after the coin market peaked in 1989, we experienced a return from an investor-based market to a collector-based market over the next 10 to 12 years. Dealers generally refer to these phases as "cycles."
Buying Preferences
Over the past six months, Zanca has been seeing investors put a higher percentage of their assets into rare coins. Again, people are putting investment money into rare coins. The pandemic has introduced uncertainty into our financial lives and investors realize that stocks can go to zero, whereas gold and rare coins act like a safety net in that they maintain value, they won't go to zero, and owners have custody of the assets. Zanca said this is similar to what he saw in the 2003 to 2004 period when demand for rare coins picked up and accelerated into a bull market that lasted until the financial crisis began in the 2007 to 2008 period. Because many investors are buying coins with investment money, he sees demand for higher-valued coins increasing.
Zanca stated that high-net-worth individuals and ultra-high-net-worth individuals want high-grade coins. They seek perfection and are drawn to CAC coins. They feel comfortable with CAC-approved coins and see the benefits of owning them. CAC coins "level the playing field." Zanca said helping buyers feel comfortable with CAC coins is an educational process. But it's become much easier with the internet. Pictures, data and history are readily available, allowing people to educate themselves about coins. The internet has opened the market and is bringing more people to coins.
Early gold coins are popular among these investors – they're easy to understand and have an interesting history. Humbert $50 "slugs" and branch mint gold coins are especially popular, but these investors are also looking for guidance on what to buy. In addition to gold coins, these buyers find early silver coins appealing. One big problem Zanca sees is that CAC gold coins are getting increasingly difficult to find, as are true rarities. Owners are not selling because they don't have good places to go with the proceeds. This is a classic scenario that puts upward pressure on market values.
Zanca brought up an interesting concept. He said that CAC coins have not been through a bull market yet, so we don't know the true power they hold. CAC was launched in November 2007, as the financial crisis was developing. The crisis sparked a temporary correction in the coin market, but it experienced a strong market between 2011 and 2014. Even so, that period could not be described as a true bull market.
Zanca sees premiums for CAC coins over non-CAC coins growing even more than they have already, adding that the possibilities for movement in prices for CAC coins are far greater now than at any time in the past. When CAC coins first came to market, it was difficult for the investor to understand the price premiums they were selling for. Now, almost fourteen years later, CAC coins have a proven and solid track record of pricing in both public and private sales. CAC coins have established themselves as the preferred coins investors want to own.
Zanca added that prices for non-CAC coins are irrelevant; CAC coins make up their own market. In conclusion, he said he believes Americans are beginning to realize the value of holding tangible assets, not just paper investments. Europeans have practiced this financial strategy through the ages, and he believes Americans are beginning to realize the benefits of owning tangibles that they control. It's a new mindset that he sees developing in America.
Analysis
This is a telling look at how demand for rare coins has increased during the past six months. In an atmosphere where seasoned collector-investors and dealers have been concerned about the graying of the hobby and a diminishing market for their coins, this is new evidence that investors will be buying our coins in the near term, not just a younger generation of collectors. Additionally, Americans are not the only people who share the same economic worries. I've recently been contacted by a group of investors from outside the U.S. who are looking to buy high-end U.S. coins, for many of the same reasons – they fear inflation.
I've read professional wealth studies by large multi-national firms that conclude high-net-worth and ultra-high-net-worth individuals put, on average, approximately ten percent of their investible assets into "treasure assets." This could be fine art, antique cars, rare wines or rare coins, for example. The percentage varies slightly around the globe and for different cultures, but the average hovers around 10 percent. U.S. coins are appealing to many of these investors because of the standing the U.S. has in the world and the well-organized numismatic market we have in the U.S.
Lastly, this new demand and the scarcity of some CAC coins, such as early gold coins, has to put upward pressure on their market values over time. Additionally, demand for rare coins has been shown over time to run parallel to trends for the price of gold. The huge economic stimuli that's been injected into economies around the world during the past six months, and which will probably expand, has raised inflation fears. Some experts in precious metals and economics predict the price of gold price will soar into the thousands of dollars per ounce during the coming years. That will help propel market values for rare coins to new record highs.
Want to read more? Subscribe to the Blanchard Newsletter and get our tales from the vault, our favorite stories from around the world and the latest tangible assets news delivered to your inbox weekly.
For more than 60 years, the United States minted the large cent. These coins, about the size of a half dollar, consisted of nearly pure copper. They were heavy, cumbersome and falling out of favor for commerce. By the early 1850s the time had come to issue something more practical, the Flying Eagle cent.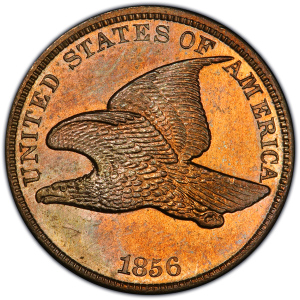 Copper prices were soaring and the cost of manufacturing the original large cent became cost prohibitive for the US Mint. Officials began exploring alternatives. One idea that gained some traction was an annular design; a coin with a hole cut through the center. However, after striking some prototypes, the mint discovered that the machinery could not eject the coins after punching the hole. Moreover, it became expensive to recover, melt, and reuse the center portion of the coin.
Despite this setback, Mint Director James Snowden proposed legislation in 1856 to press forward with a new coin to replace the large cent. He left the final decision regarding size and metallic composition to the Treasury. By March of 1856, the bill found its way to the Senate. A few weeks later it was amended so that the final piece would consist of at least 95% copper weighing.
James B. Longacre, portraitist and engraver for the Mint, began designing the relief images for the coin. His final look consisted of a flying eagle on one side and a wreath framing the text "One Cent" on the other. Legend has it that the inspiration for the design came from "Peter the Eagle," an eagle that would frequent the premises of the Philadelphia Mint.
Later, the Mint took steps to shore up acceptance of the dramatically new look and feel of the coin. They sent early pieces to congressmen, members of the House Committee on Coinage, and other government officials.
These early 1856 pieces were considered transitional coins, not official currency because congressional approval was still pending. As a result, they are considered particularly valuable. Soon after the bill stalled. Tennessee Congressman George Washington Jones expressed his dissatisfaction with the coin believing it invalid because it wasn't entirely gold or silver. In time, officials were able to defend the new coin and advance the bill through the process eventually getting it to pass.
The Mint encountered problems minting the design. The hard copper-nickel alloy led to broken dies and manufacturing problems. The Mint experimented with various alterations to solve the problem. They attempted making the relief of the eagle shallower to put less strain on the presses. By 1859 the Mint was prepared to replace the eagle design entirely with an image of Liberty wearing an Indian-style headdress.
Since its minting, the earliest 1856 Flying Eagle coins have attracted many collectors. In fact, in 2004 an 1856 cent in MS-66 condition fetched $172,500 at action. Even the less rare pieces, such as an 1857, or 1858 pressing in MS-63 condition could bring up to $11,000.
Every school child in America grew up learning about Sacagawea.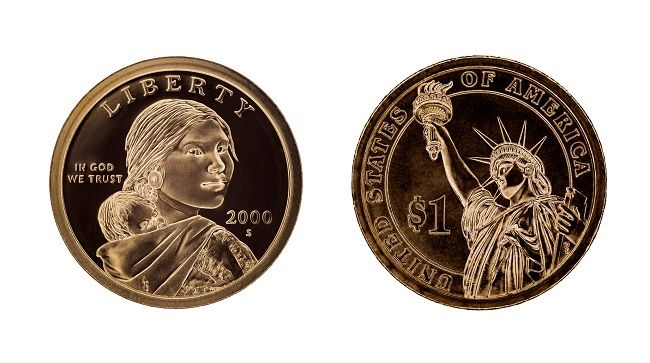 She, of course, was a legendary Native American (Lemhi Shoshone) woman who helped Meriwether Lewis and William Clark on their exploratory expedition from North Dakota across the Rocky Mountains to the Pacific Ocean and back in 1805-1806.
Sacagawea was born in 1788 or 1789 around the Salmon River region, in current day Idaho. In 1803 or 1804 she was married to French-Canadian fur trader Toussaint Charbonneau and quickly became pregnant.
Why was Sacagawea chosen to embark upon a journey, carrying her infant son, lasting thousands of miles across desolate and often dangerous land?
She was bilingual in two very different Native American tribal languages – Hidatsa and Shoshone. While her husband spoke French, English and Hidatsa. This translation chain was viewed as extremely valuable. Lewis and Clark knew they would need help communicating with the Shoshone tribes at the headwaters of the Missouri River.
Her work as interpreter proved invaluable and also her presence in the group demonstrate the peaceful nature of the mission.
In the year 2000, the United States Mint honored Sacagawea and her contributions to the early explorations of our great nation with the Sacagawea Golden U.S. Dollar coin. The coin was minted under the auspices of the United States $1 Coin Act of 1997.
The creation of the new coins were attempting to meet a need for vending machine use.
The Susan B. Anthony dollars were popular for vending machine use but the U.S. Treasury's supply of these coins were dwindling by the late 1990s. The act also provided direction to resume production of the Susan B. Anthony dollars until the new coins were ready for circulation.
A design contest was used to select the final representation of Sacagawea with her infant son, with the reverse side of the coin featuring an eagle representing peace and freedom. Sculptor Glenna Goodacre's design was chosen and she was paid a $5,000 commission in the dollar coins. The 2000-P coins paid to Goodacre were struck on burnished blanks, which created a unique striking for her set.
By and large the majority of Sacagawea coins are not rare and circulated coins do not carry numismatic value. They are also not made of gold, despite the golden color. The coins were composed of primary copper (77%), with small portions of zinc, manganese and nickel.
The coins still circulate today, but proved to be unpopular with the public and are not widely used.
There are a few key dates that are rare and have value beyond the $1 mark on the coin.
The U.S. Mint embarked upon partnerships with both Wal-Mart and General Mills to promote the use of the Sacagawea coin in commercial transactions.
Remember the days when you'd open a cereal box and get a prize? The partnership with General Mills included 10,000,000 boxes of Cheerios cereal that would contain a Lincoln cent as a prize or a new Sacagawea dollar. Some lucky Cheerios breakfasters would receive a certificate redeemable for 100 Sacagawea dollars.
Some of the Sacagawea dollars that were found in the Cheerios boxes were struck from a different set of dies. Within numismatic circles, these coins which showed "high detail" and enhanced eagle feathers on the reverse side of the coin became known as the "Cheerio Dollars" or "enhanced reverse die." These are valuable and depending on the grade have sold for $5,000 to $25,000.
Do you have jars of old coins sitting around? Check out any 2000 Sacagawea dollars and search for enhanced eagle feathers. You might find something more valuable than just a dollar.
How do you run a successful business? You make sure that costs don't exceed revenues. However, in a 2014 biennial report to Congress, the U.S. Mint explained that it takes 8.04 cents to make a nickel and 1.66 cents to make a penny. This imbalance between manufacturing costs and face value is a problem.
This challenge is not new. In 1973 the U.S. Mint had the same problem. They decided to explore solutions. The prevailing idea was to make pennies from aluminum. Specifically, they intended to make them from an alloy of aluminum and trace metals. This approach would replace the copper-zinc composition in the traditional one-cent coin.
Rising copper costs made the traditional 1973 penny nearly equal in cost to its face value. This brought the topic of seigniorage into the fold. Seigniorage is a word used to describe the difference between the face value of a piece of currency and the cost to manufacture and distribute the money. To avoid a model in which costs exceed face value, the U.S. Mint decided on an alloy consisting of 96% aluminum. Aluminum was less expensive, more durable, and resistant to tarnishing. Additionally, aluminum takes less of a toll on the die used to mint coins which also brought manufacturing costs down.
The U.S. Mint went forward with their plan. They minted more than 1.5 million new aluminum pennies in 1973 for intended release in 1974. Opposition to the plan, however, was immediate. Leadership in the copper industry rebuked efforts to abandoned the metal. Moreover, those in the vending machine industry became vocal about their concerns over the ability of machines to function with aluminum coins. There was an additional problem to all of this that no one foresaw: radiodensity.
Radiodensity is the inability of kinds of electromagnetic radiation to pass through a material. That is, pediatric radiologists cited the aluminum coins as a risk because they would be difficult to locate in an X-ray scan. An aluminum coin might be undetectable if a child ingested one. The coin might appear indistinguishable from human tissue on the images.
In time, the cost of copper declined. This, coupled with the growing voice of aluminum detractors left the initiative dead. The U.S. Mint recalled the aluminum coins. However, a small portioned were never returned, probably totalling 12 to 14 coins. These few pieces have remained hidden and unsold, therefore their value remains obscure.
However, in early 2014 a San Diego resident claimed to own a 1974-D aluminum coin. The "D" signifies that it was minted in Denver. The owner's father was once a deputy superintendent of the Denver Mint. Some initial estimates put the value of the piece at $250,000 with some suggesting that the value could reach as high as $2 million.
Later that year PCGS certified the coin as authentic. The owner planned to auction the piece. At the same time the U.S. Mint requested that the owner return the coin. The issue went before a judge who "it is plausible that a Mint official, with proper authority and in an authorized manner, allowed Harry Lawrence to keep the 1974-D aluminum cent."
Despite the ruling, the owner returned the coin to the U.S. Mint and the 1974 aluminum penny remains a footnote in the history of the U.S. Mint.