Gold Races above $2,000: Three Reasons It Can Keep Going Higher
Posted on
— 1 Comment
Gold soared through the $2,000 level yesterday fueled by steady investor buying following weaker-than-expected economic reports and a big jump in crude oil prices. The early April OPEC announcement of a planned crude oil production cut triggered a 6% jump in oil prices to $80 per barrel. And, higher crude oil prices can boost the already high levels of inflation in the economy.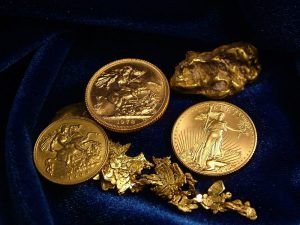 Investors turned to the safety of gold in recent weeks amid bank failures, concerns about recession, rising interest rates and still-high inflation. The shiny yellow metal soared 12% in the past month and has climbed 25% from its November low.
You may be wondering – can gold still climb higher? Citigroup says yes – with a near-term price forecast of $2,300, which would stand as a new all-time record high. The current record high for gold sits at $2,059.90, scored in 2020.
Here are three reasons gold can still climb higher from here.
The U.S. dollar slid to its lowest level since February this week. The dollar is in a downtrend, has been declining since its October 2022 peak and appears to have more to fall. The recent weak economic reports increased the odds that the Federal Reserve will need to pull back on additional aggressive interest rate hikes to fight inflation, ultimately meaning that the fed funds rate will peak out at a lower rate than previously expected.
Because gold is bought and sold in U.S. dollars on the world marketplace, an ounce of gold is worth more dollars when the greenback weakens. As the dollar weakens even more, it creates additional momentum for gold to climb higher.
2. Falling Bond Yields
Bond yields are falling, which increases the attractiveness of gold as a portfolio diversifier and safe haven asset. Two-year U.S. Treasury note yields slid from 5.1% last month to 3.8% this week.
3. Increased Risk Aversion
Investors worldwide have been spooked by the recent bank failures, worries about a U.S. recession, and high inflation that the Fed just can't seem to get rid of. Gold has served as a store of value for thousands of years and in times of uncertainty, precious metals increase in value. As worries about systemic financial system risk grow, investors are moving assets into gold, which has no counter-party credit risk.
It's not too late to buy gold. Precious metals are in an uptrend and have more room to run.
Want to read more? Subscribe to the Blanchard Newsletter and get our tales from the vault, our favorite stories from around the world and the latest tangible assets news delivered to your inbox weekly.