American Gold Eagle

American Gold Buffalo

Canadian Gold Maple Leaf

Australian Gold Kangaroo

Austrian Gold Philharmonic
For thousands of years, people around the world built wealth with gold. Today, gold remains a proven strategy for investors to diversify their portfolios and protect and grow their wealth.
Owning physical gold has many benefits over "paper" gold like exchange-traded funds (ETFs) or mining stocks. ETFs and mining stocks do not always follow the price of gold and you never take physical ownership of gold. Notably, there are sometimes outside forces at play that move paper investments at different rates and in different directions than the spot price of gold. For example, gold mining stocks can be impacted negatively by workforce strikes, political strife in the countries where minors operate, poor company management, and accounting issues. Gold could be performing strongly and a mining company's stock may not reflect the commodity's performance. ETFs have their own set of unique issues, including management fees, marketing fees, and storage and insurance fees. Investors putting money into ETFs also do not take possession of the gold they've invested in. Physical gold does not have these same downsides.
There are many different gold coins to choose from. We outlined the five best gold bullion coins for investors to consider. All of these gold coins are recognized around the world for their purity, and authenticity and are easily bought and sold.
Another benefit to the top five gold coins on our list is that they are all approved by the Internal Revenue Service (IRS) to use in your IRA account. Let's take a look at the five best gold coins to use in investing.
1. One Ounce American Gold Eagle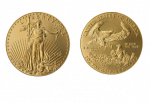 One-ounce American Gold Eagle coins are hands down one of the most popular and widely recognized gold coins around the world. The U.S. Mint produces these coins, which are made of 22-karat gold, and offers investors a rock-solid investment in an ever-changing economy. The value of American Gold Eagle coins moves independently of the stock and bond markets, which offers investors strong portfolio diversification value. Indeed, historically, when the stock market crashes, the price of American Eagle gold coins soars higher. In 1986, President Ronald Reagan signed into law the program to mint American Eagles, which became the global standard for bullion coins. These coins are 100% American-made. Like all the coins on our list, you can buy and store the one-ounce American Gold Eagle in your self-directed precious metal IRA account.
2. One Ounce American Gold Buffalo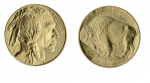 Another coin proudly produced by the U.S. Mint for investors and collectors alike is the American Gold Buffalo coin. This stunning gold coin is an homage to our nation's early history and heritage. For many years, investors could only buy 22-karat gold. But, amid growing interest in even greater purity levels, Congress authorized the creation of the American Gold Eagle, which debuted in 2006, minted in 24-karat gold. You may recall the famous Buffalo Nickel designed by James Earle Fraser. This arresting gold coin pays homage to that era and features a Native American chief's profile on the obverse side and an American buffalo on the reverse.
3. One Ounce Canadian Gold Maple Leaf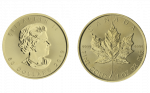 Moving beyond the United States, the one-ounce Canadian Gold Maple Leaf is one of the most prestigious and highly sought-after gold bullion coins after the American coins mentioned above. The well-respected Royal Canadian Mint introduced this coin in 1979 and it was the first bullion coin to feature 99.99% pure gold. The one-ounce Canadian Gold Maple Leaf coin represents extraordinary craftsmanship, featuring the iconic and cherished Canadian maple leaf.
4. One Ounce Australian Gold Kangaroo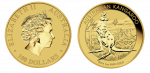 Traveling farther around the globe, the esteemed Perth Mint has produced the one-ounce Australian Gold Kangaroo since 1986, which is another highly after coin by investors. The original version of this coin was known as the Australian Gold Nugget. However, in 1990, the Perth Mint redesigned the gold coin, which now features an iconic kangaroo design paying homage to Australia's natural heritage. The reverse highlights a magnificent kangaroo with intricate detailing, revealing both the dignity and brawniness of this beloved marsupial. The obverse reveals Queen Elizabeth II, highlighting the country's connection to the British monarchy.
5. One Ounce Austrian Gold Philharmonic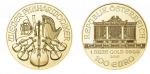 Last but not least, the one-ounce Austrian Gold Philharmonic gold coins are easily one of the most popular bullion coins traded in continental Europe. The Austrian Mint began producing these elegant coins in 1986, which pay homage to the thriving musical history in Austria's capital city of Vienna. Sometimes called Vienna Gold Philharmonics, investors gravitate to this coin for its widely recognized depiction on the obverse of the Great Organ, an iconic instrument that sits in Vienna's esteemed Musikverein concert hall. The reverse features a collection of musical instruments, including the cello, violin, harp, flute, and horn, which represent the many sounds that meld together to create a symphony.
Want to read more? Subscribe to the Blanchard Newsletter and get our tales from the vault, our favorite stories from around the world, and the latest tangible assets news delivered to your inbox weekly.