S.S. Brother Jonathan Shipwreck
S.S. Brother Jonathan Sunken Treasure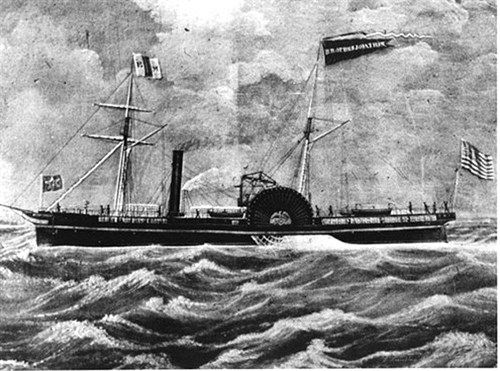 A legendary piece of American shipwreck history is available for a limited time — gold coins from the 1865 wreck of the S.S. Brother Jonathan.
---
Over a century at the bottom of the sea, these well-preserved symbols of american prosperity can be yours.
All shipwreck gold tells tales of tragic endings, heroism, and adventure, but the $20 Liberty Type I Double Eagles recovered from the S.S. Brother Jonathan shipwreck have a numismatic quality that rivals other coins. These tangible reminders of America's colorful past were originally intended as payment to Native American tribes of the Northwest. With a golden luster and classic design, they are true national treasures, desired by collectors for their pristine beauty and rarity. Now you can proudly display these unforgettable relics from a time when "real" money and authentic adventure were core to the American experience.
Brother Jonathan's Tragic Final Voyage
On July 30, 1865, the S.S. Brother Jonathan — dangerously overloaded with livestock, heavy equipment, and even a fire engine — crashed into an uncharted reef in the midst of a terrible storm. Perhaps in response to terrified passengers or to just a reasonable fear of storm surge, the captain had turned the ship around, intending to return to safety. However, the impact of the reef dealt a mortal blow, and Brother Jonathan sank quickly. Only 19 survived, making it the deadliest passenger shipwreck of the West Coast to date, and prompting the building of St. George Reef Lighthouse, the costliest and most remote lighthouse in U.S. history.
The freshly minted $20 Liberty gold coins on board the S.S. Brother Jonathan had been struck just a few months prior at the San Francisco Mint. A total of 1,207 coins, mostly Type I Double Eagles, were recovered from the shipwreck in the 1990s, but crates of gold still remain hidden and undisturbed on the ocean floor.
S.S. Brother Jonathan History & Recovery at a Glance
Built in 1851 and named "Brother Jonathan," which refers to the iconic figure who represented the late-1700s American revolutionary
Original route was from New York to Panama
Its inaugural journey set a record for fastest round-trip: 31 days
Purchased and rebuilt by Cornelius Vanderbilt in 1852
Sold to Captain John Wright, renamed "Commodore" and put on West Coast routes as gold prospectors traveled to the Fraser Canyon Gold Rush
Purchased in 1861 by California Steam Navigation Company, who retrofitted her and restored her original name
Continued on the northward route from San Francisco to Vancouver via Portland, allowing prospectors to work the Salmon River Gold Rush, until her final day of service
Struck a reef and tragically sank near the California-Oregon border on July 30, 1865
Famous victims included Union Brigadier General George Wright, Abraham Lincoln's physician and close friend Dr. Anson G. Henry, Publisher James Nisbet, and San Francisco madam Roseanna Keenan
Wreckage located in 1993 by the recovery firm Deep Sea Research (DSR)
In 1996, DSR recovered the ship's most valuable sunken treasure — 875 $20 Double Eagles in excellent condition
The sale of the recovered Brother Jonathan shipwreck coins fetched a total of $5.3 million on May 29, 1999