Rare Silver Coins: An Economical and Appealing Gold Alternative
Silver coins have always been a major part of our nation's coinage, and today they attract a large and consistent collector and investor following. Many people are drawn to rare silver coins because they cost less than gold rare coins, with greater visual appeal than rare copper or nickel coins.
As with U.S. gold coins, rarities with U.S. silver coins frequently occur. For example, Blanchard recently obtained two extremely rare silver "half dismes" (half dimes), now valued at more than $200,000 each for our clients. Roughly 1,500 of these half dismes were minted in 1792, with part of the silver coming from the silverware collection of George and Martha Washington. The likeness on the coin is said to resemble Martha herself.
Denominations Include the Popular Silver Dollar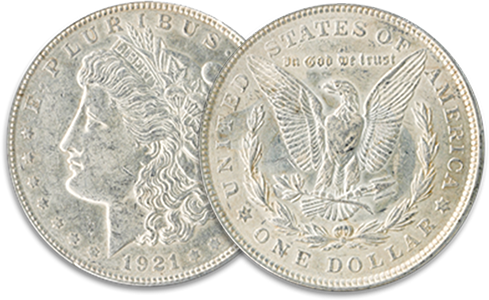 U.S. rare silver coins comprise seven denominations: the three cent, half-dime, dime, twenty-cent, quarter dollar, half dollar and dollar. This denomination selection creates many areas of interest for collectors, with the U.S. silver dollar garnering the most attention by far.
Probably no coin is more widely collected today than the rare Morgan silver dollar — an oversized, silver-rich beauty with mintage figures large enough to allow millions of collectors to own complete or near-complete sets. Morgan dollars were minted from 1878 until 1904, and again in 1921, across the Philadelphia, New Orleans, San Francisco, and Carson City mints.
Three of the seven silver coin denominations are now obsolete, having either been replaced by another coin or shunned by the public. These include the three cent — the smallest silver coin ever minted by the U.S. — the half dime and twenty cent.
---
Silver Commemorative Series
In addition to our regular coinage minted for commerce, we offer one of the most popular coin series in U.S. numismatics, the Silver Commemorative series. Usually half dollars, the coins comprising this series tell unique stories of American history, with each coin representing a person, place or event important to our heritage. Subjects range from Daniel Boone to the Battle of Antietam to the Monroe Doctrine.