S.S. Gairsoppa Shipwreck Silver
S.S. Gairsoppa
In December of 1940, the steel-hulled British cargo steamship S.S. Gairsoppa – carrying 7,000 tons of silver bars, pig iron, tea, and other cargo – set sail from Calcutta, India. It was the midst of World War II, and merchant ships on the open sea were easy targets for Nazi submarines. After changing its course due to bad weather, the Gairsoppa found itself alone and running out of fuel in the North Atlantic. After being spotted by a German Focke-Wulf Fw 200 airplane, it was doomed. Just 14 hours later, German U-boat U-101 captain Ernst Mengersen located it 300 miles southwest of Galway Bay. The Nazis fired four torpedoes, one of which hit the ailing steamship, causing an explosion and snapping the wireless antennae used to transmit distress calls. The ship sank shortly after the attack, into the icy waters of the North Atlantic.
---
Recovering the Shipwrecked Silver Bullion
The hunt for the S.S. Gairsoppa shipwreck silver has captured the imagination of many seeking adventure, and collectors and investors alike jump at the chance to add these unique symbols of the past to their collections and portfolios. Like the gold recovered from the S.S. Republic and S.S. Central America, S.S. Gairsoppa's silver bars possess a rarity and uniqueness that make them irresistible. Each silver bullion bar recovered in July 2013 from the Gairsoppa shipwreck contains nearly 1,100 ounces of .999 pure silver. Each has a unique serial number and is stamped with "HM Mint Bombay," which stands for "His Majesty's Mint at Bombay."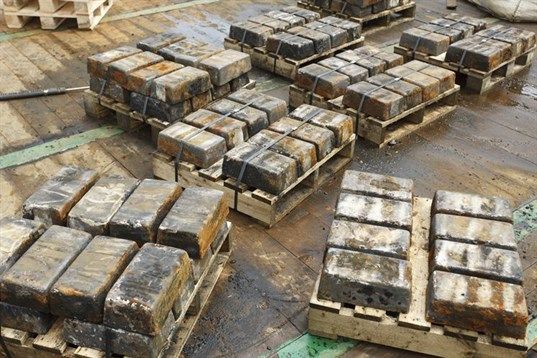 More than 60 tons of silver recovered by Odyssey Marine Exploration have been collected, documented, and stored.
To date, 2,792 of these massive silver bars – approximately 3.2 million troy ounces of silver – have been recovered in two separate salvage operations, the first in 2012 and the second, 2013. The July 2013 salvage operation of the Gairsoppa was the deepest and heaviest recovery of precious metal from a shipwreck site in history.
---
Commemorative Gairsoppa Shipwreck Silver Bar (10 oz.)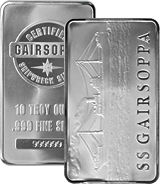 Only 462 of these 2,792 1,000+ oz. shipwreck silver bars have been distributed to the public, making them truly authentic, coveted rarities. However, the remaining bars have been melted and re-minted as 10 oz. commemorative bars, offering a more affordable – but equally exciting – way for collectors and investors to capture an authentic piece of the S.S. Gairsoppa. Each of these gem uncirculated 10 troy oz. silver bars is minted with the same .999 pure silver as the original 1,000+ oz. ingots recovered from the shipwreck site. Each bar is stamped with a certified S.S. Gairsoppa Shipwreck Silver Seal on its obverse, with the image of the S.S. Gairsoppa ship imprinted on its reverse to commemorate the ship and crew and identify the origins of the silver. These Blanchard exclusives are available in limited quantities, and can be conveniently purchased with a variety of payment options.