$20 Liberty MS62 Certified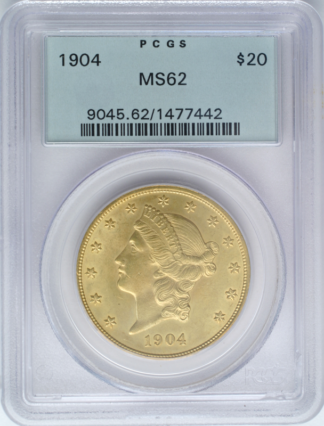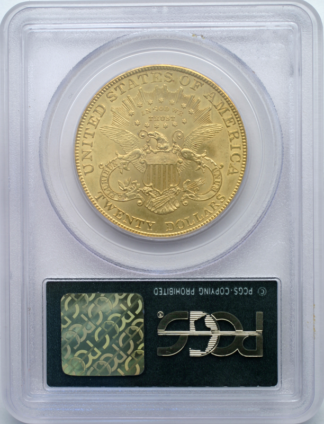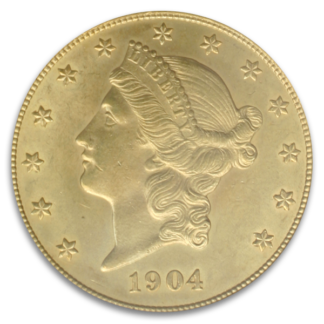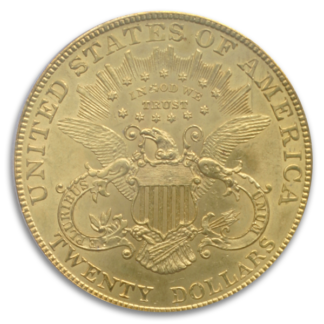 The obverse has Liberty facing left, surrounded by 13 stars, with her hair flowing to her shoulder. Her coronet (crown) has LIBERTY in relief, and the date is at the bottom. The image for the portrait is a modification of a Greco-Roman statue which was much admired by designer James Longacre.
On the reverse, The shield has sides that are slightly curved and the eagle's tail feathers are low and close to the lettering of the denomination. 
The addition of the motto to our coinage came at the urging of Reverend Mark R. Watkinson of Ridleyville, Pennsylvania. The uncertainties and horrors of the Civil War engendered strong religious feelings among the citizenry, and Rev. Watkinson felt this should be acknowledged. Secretary of the Treasury, Salmon P. Chase agreed, and using his discretion as to the inscriptions on our coins, Chase first had the motto added to the 2-cent piece in 1864. Originally the motto was intended to be expressed as "In God Our Trust", but Chase's collegiate alma mater may have influenced the final version.
Secretary Chase was a graduate of Brown University, whose motto IN DEO SPERAMUS translates to "IN GOD WE HOPE". It is believed that Chase had this in mind when he made the final decision as to the exact wording of the motto. The Coin Act of March 3, 1865 gave the Treasury discretionary power to place the motto "on all coins able to accommodate it", meaning coins large enough to have room for it. The Mint took this to mean all silver coins larger than a dime, half eagles, eagles and double eagles. It was not until 1908 that Congress mandated that the motto be placed on gold and silver coins. In 1955 Congress passed legislation that required the motto to be placed on all coins.
Comparison Chart