100 gram Gold Bar Our Choice (New w/Assay, Types Vary)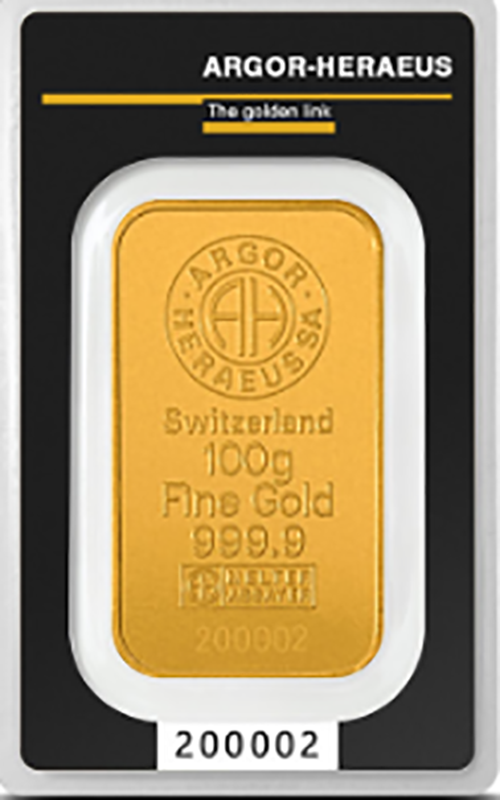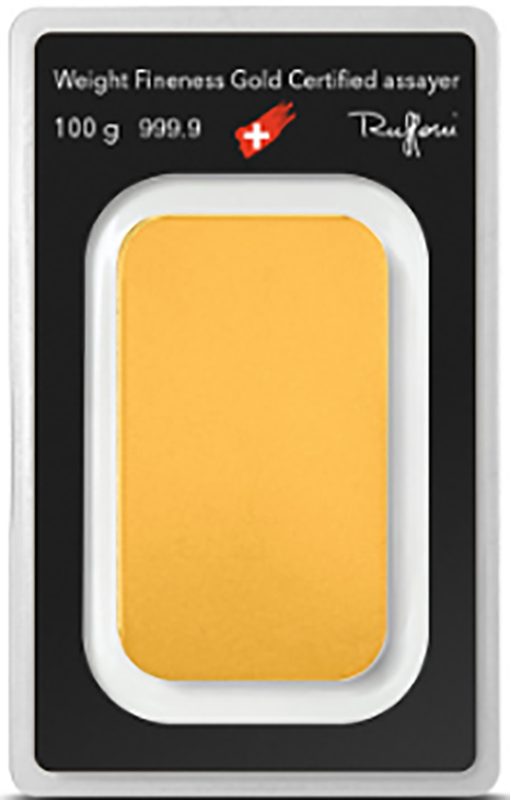 Introduction
The 100-gram gold bar, featuring various types and assured quality with accompanying assay certificates,  represents a substantial and valuable option for investors seeking to hold a tangible piece of precious metal. These bars are typically composed of 99.99% pure gold, showcasing the highest standard of quality and purity. The 100-gram size offers a cost-effective way for investors to acquire a significant amount of gold while still enjoying the convenience of a single, easily storable and transportable unit. With their enduring allure and intrinsic value, the 100-gram gold bars remain a prized and prestigious choice for those seeking to preserve their wealth in the form of precious metals or for collectors looking to add a substantial and valuable piece to their numismatic collections.
History
The history of the 100-gram gold bar can be traced back to the evolution of standardized gold bullion products in the modern era. Gold has been valued and used as a medium of exchange for centuries, but it was during the 20th century that standardized gold bars began to be produced by mints and refineries around the world. The idea of offering gold in metric denominations, such as 100 grams, arose to cater to a wider range of investors and facilitate international trade. The 100-gram gold bar, with its substantial size and weight, quickly gained popularity as a practical and convenient option for both individual investors and institutional buyers. With the increasing interest in gold as a tangible store of wealth and a hedge against economic uncertainties, the production of 100-gram gold bars expanded, and reputable mints and refineries began to offer them in various designs and with high gold purity. These bars were produced with 99.99% pure gold, making them highly sought-after by investors seeking to acquire the highest quality precious metal. The 100-gram gold bar continues to be a favored choice for investors and collectors alike, representing a significant amount of gold while still remaining relatively affordable compared to larger denominations. Its enduring appeal lies in its convenient size, ease of storage, and liquidity in the global market. Today, the 100-gram gold bar remains a symbol of wealth, stability, and value, serving as a tangible and prestigious representation of precious metal investments. With a history deeply intertwined with the evolution of modern gold bullion products, the 100-gram gold bar continues to be a cherished and coveted asset for those seeking a reliable and tangible store of wealth in the form of precious metals.
Design
The 100-gram gold bar showcases a distinguished and impressive design. The front of the bar typically features a sleek and polished surface, displaying essential details such as the weight, purity, and the mint's logo or emblem. Crafted with 99.99% pure gold, the bar's high-quality composition accentuates its intrinsic worth. On the reverse side, intricate security features, unique serial numbers, or engraved patterns may be present, ensuring its authenticity and origin. The edges of the bar are often precisely finished, adding to its overall elegance and ease of handling.