1795 $5 Draped Bust Small Eagle NGC AU58 CAC


.
Blanchard prides itself on sourcing the highest quality numismatics available anywhere. If there is a coin that you are searching for, contact us today. Learn more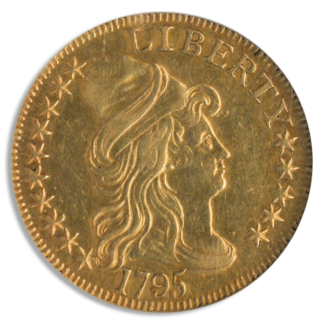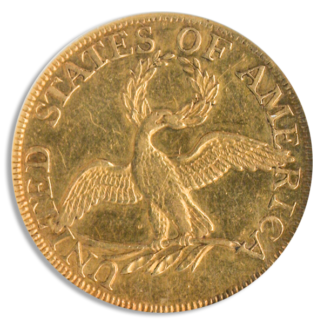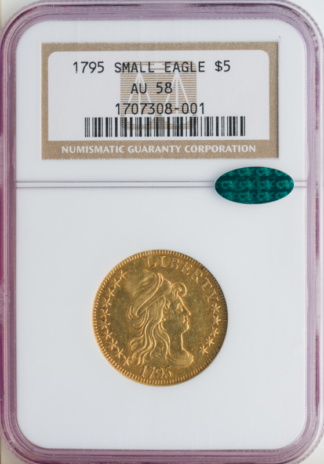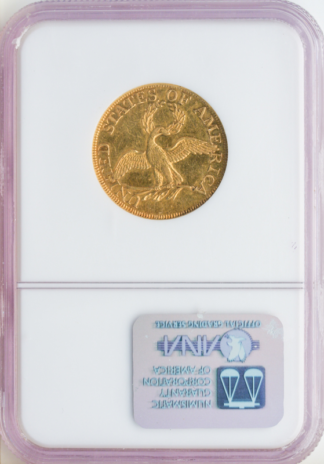 When Henry William DeSaussure was appointed Mint Director in 1795, his major goals were to get gold coins into circulation and to improve the designs of existing coins. When the United States Mint first opened in 1793 it struck only copper coins due to an onerous surety bond required of those handling gold or silver. This problem was overcome, and the Mint began striking silver coins in 1794, and finally gold coins in 1795.
The first gold coin off the press was a half eagle, and on July 31, 1795 the Mint delivered 744 pieces. The half eagle would become the most popular gold coin denomination due to it being the closest in value to the most common foreign gold coins then circulating in America, specifically British guineas and sovereigns, Brazilian 4000 reis, and French 24 livres.
As coins would be the nation's face to the rest of the world, great attention was focused on the technical and artistic aspects of our coins. Errors simply could not be made. When tested for content and purity no margin of error could be tolerated. Congress, intent on eliminating even a hint of impropriety, included in the Coinage Act of 1792 a requirement that the Chief Coiner and Assayer each post a $10,000 personal bond before they would be allowed to handle gold or silver. In 1792 America this was an enormous amount of money and precluded anyone from accepting the positions. George Washington and Thomas Jefferson urged Congress to reduce the amount of the bond so the nation could begin to produce precious metal coins. Internationally, the making of copper half cents and cents was not considered noteworthy. The minting of coins in precious metals was another thing entirely. Coins of gold and silver had always been the purview of royalty. The minting of silver coins in 1794 was seen as a statement of sovereignty by America. The minting of gold coins added an exclamation mark to that statement
A LITTLE STICKER MAKES A BIG DIFFERENCE.
Within each number of the coin grading scale is a small range of condition from low-end to high-end. Certified coins of the same grade can be of varying quality. Many of today's collectors want coins that are solid or premium quality for their assigned grade. CAC holds coins to a higher standard so you can be confident in the value of yours. We verify previously graded coins … and award our sticker only to those coins that meet the standard for today's selective buyer.
WHAT THE CAC STICKER MEANS:
Verified. Your coin has been verified as meeting the standard for strict quality within its grade.
Guaranteed. CAC stands behind our verification by making markets in most actively traded coins.
THE CAC STICKER IS BACKED BY EXPERIENCE.
CAC was founded by leading members of the numismatic community, including John Albanese, a respected authority on coin grading and the rare coin market.